22 Training Events Activity Binder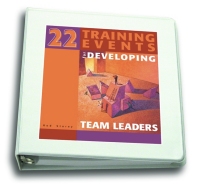 For many team leaders, leadership can seem like an intangible, unattainable skill — one that's best left to those at the top of the organization. But in reality, leadership takes place at many different levels, from strategic directors to team and project leaders. And the common denominator is a set of key recognizable skills that any leader can learn, practice, and develop. 22 Training Events for Developing Team Leaders is a series of exercises, simulations, games, and case studies that addresses the skills at the heart of improving the way team leaders guide their teams.
Applications

22 Training Events for Developing Team Leaders is flexible and may be adapted to meet your participants' specific training needs. Build the activities into any team leadership program, tie together several events for a mini training session, or use selected activities as stand-alone exercises.

This thought-provoking collection provides skill development in such critical areas as:

· Initiating
· Controlling
· Evaluating
· Delegating
· Decision-Making
· Communicating
· Motivating

Product Contents

· Activity index
· Activity summaries
· Time checklist (activities listed by time requirements)
· Purpose statements (learning objectives)
· Step-by-step facilitator guidelines
· Reproducible participant materials
· Task sheets (Debriefing questions)
· Appendix for each activity (tips on when to use it and how
to help ensure its success, as well as pitfalls to watch out for) 

Activities
· How Good a Leader Are You?
· Leadership Stick-Up
· The New Team Leader
· Leadership Style
· Leadership in Your Own Organization
· Front Page
· Moving Day
· Lights, Camera, Action!
· Alaska!
· The Rice Race
· Business Consultants, Ltd.
· Who Was at Fault?
· The Do-It Yourself Builder
· Feedback
· Decisions, Decisions, Decisions!
· Motivation in Practice
· Influence Style
· Problems with People
· The Delegator
· Delegate That Task
· Crisis Plan
· Reorganization
Formats
This product is available in three convenient formats: 3-ring binder, digital download of the complete activity collection, or digital download of individual activities from the collection.