Breakthrough Creativity Profile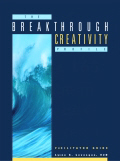 Creativity isn't a trait that belongs only to entrepreneurs, artists, and geniuses. The fact is, all of us are born creative. And in today's world, in which old ways of doing business are constantly being challenged, the ability to produce different and valuable results is the competitive edge for individuals and organizations.

The Breakthrough Creativity Profile by creativity expert Dr. Lynne Levesque is based on a well-grounded theory and the personality research of Carl Jung. The 16-item assessment reveals one's dominant and auxiliary preferences among the 8 creative talents and helps individuals define what is needed to achieve their creative best.

Learning Outcomes

· Identify preferences among the 8 creative talents
· Better understand creativity and its impact on individual success
· Recognize the contributions and challenges of preferred talents
· Practice tapping into creative talents
· Develop an action plan to better utilize one's creative talents

Once individuals have discovered their creative talents, the profile can be used to assess the creative talents of a team.

Theory

The 8 creative talents at the heart of the Breakthrough Creativity Profile are based on Jung's personality research and a 3-part theory of creativity.

The Breakthrough Creativity Approach:
· Everyone is creative.
· Creativity must be broadly defined.
· There is no ideal model or one best way to be creative.


How it Works

First, participants recognize the many ways to define creativity through a series of exploratory questions. The assessment then presents 16 questions relating to one's behavior at work. After scoring the assessment, participants gain insight on their individual and team creative talents through interpretive information, an exercise, a team profile, and discussion questions. The action planning section of the Participant Guide then gauges individual rating of creativity and prompts thinking about behaviors that will help individuals and teams enhance creativity.

Uses for the Breakthrough Creativity Profile

The Profile is an effective means to:

· Encourage innovation
· Build self-confidence and self-esteem
· Improve problem-solving ability 
· Develop more productive teams
· Boost employee morale and satisfaction
· Maintain higher employee retention
· Build creative collaboration
· Benefit from diversity

What to Order/Product Contents

Order one Facilitator Guide per facilitator and one Participant Guide per participant.

Facilitator Guide includes:
· Administrative guidelines
· Theoretical background and model
· Experiential learning methodology
· Workshop for individuals and teams
· Frequently Asked Questions
· Alternative training designs
· Using BCP for coaching
· Optional activities to expand the learning
· Sample copy of the Participant Guide
· CD-ROM containing PowerPoint® presentation, overhead
transparency masters, activity handouts, and more.
   Participant Guide includes:
· Introduction to creativity
· 16-item assessment
· Pressure-sensitive scoring form
· Creative talent overview
· Team talent matrix and questionnaire
· Action planning