NegotiatingSuccess Program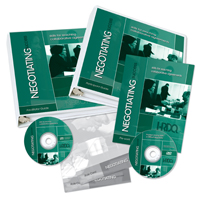 Many of us negotiate every day, both in business and personal interactions. All of these negotiations involve 2 critical factors: the outcome and the relationship that exists between the negotiators. In an increasingly fast-paced and competitive marketplace, we can't afford to jeopardize either. For building the skill set needed to foster partnerships and achieve favorable agreements, NegotiatingSuccess™ is the solution.

Based on the well-known collaborative model of negotiating behavior, this powerful 2-day program takes the fear out of negotiating, helping individuals to prepare for negotiations, find creative solutions to tough problems, work through personal style differences, and build relationships with negotiating partners.

Learning Outcomes:
Learn and practice the collaborative discussion model for negotiating
Discover one's negotiating style and compare it to other styles
Learn how to prepare quickly and accurately for any negotiation
Improve the interpersonal skills needed to support a collaborative negotiating style
Develop the ability to problem solve with difficult negotiators
Discover one's communication style and learn how to adapt it to other styles
Create a personal action plan for improving negotiating skills
NegotiatingSuccess includes all the materials you need to conduct a powerful learning event — from pre-work to participant and facilitator support materials. Every HRDQ Program offers just the right mix of interactive tools, helping participants learn compelling concepts, reflect on relevant experiences, and practice new skills.
Facilitator Kit includes:
Facilitator Guide
PowerPoint CD-Rom
Support Materials for 3 teams of 4-7 participants.
Participant Kit includes:
Three-ring binder
Two learning instruments
Business simulation activity
Pressure-sensitive response forms
Interpretation of instrument results
Self-reflection questions
Action planning
Facilitator Guide includes:
Administrative guidelines
Theoretical background 2 learning instruments
Business simulation
Activities Experiential learning/training methodology
Training design options
Blank training outline
Participant Guide content (incorporated into Facilitator Guide)
PowerPoint® presentation and reproducible masters
Certificate of Achievement
Training Evaluation
Participant Guide includes:
Three-ring binder
Two learning instruments
Business simulation activity
Pressure-sensitive response forms
Interpretation of instrument results
Self-reflection questions
Action planning