Performance Apprasial Skills Inventory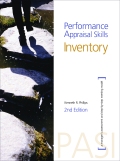 Help managers turn performance appraisals into productive and even enjoyable experiences. The Performance Appraisal Skills Inventory (PASI) first identifies strengths and weaknesses in six skill areas via an 18-item assessment. Participants then learn a simple 6-step process for conducting effective performance appraisal meetings.

Learning Outcomes
Identify strengths and weaknesses in specific skills needed to conduct effective performance appraisal meetings
Compare strengths and weaknesses in these skills with a norm group of managers and supervisors who previously completed the PASI
Learn a model for conducting effective performance appraisal meetings
Theory
 
Research points the fact that most managers do not do a very good job of conducting performance appraisal meetings. One study (DeVries et al. [1986]) of a high-tech corporation revealed that meetings often did not last long enough, did not lead to follow-up meetings to address issues that arose, and that most employees did not know the evaluation criteria prior to an actual performance appraisal meeting. Other researchers have found discrepancies in perceptions of managers and employees about what took place in appraisal meetings and whether a performance appraisal had actually taken place.

The premise of the PASI is that managers and supervisors could gain the ability to be effective at conducting performance appraisal meetings if they had a good model. The steps and skills of the 6-Step Performance Appraisal Meeting Model show below are all grounded in behavioral science research. They have been found to distinguish managers who are effective at conducting performance appraisal meetings from those who are less effective. (See Rackham and Morgan [1977]).

The 6-Step Performance Appraisal Meeting Model

An effective performance appraisal meeting can be viewed as a process consisting of 6 steps:

1. Building a Relationship of Mutual Trust
2. Opening the Meeting
3. Identifying and Exploring Accomplishments and Concerns
4. Developing an Improvement Plan
5. Overcoming Defensiveness
6. Evaluating and Rating Employee Performance

More detailed information about the PASI model and theory is included in the Facilitator Guide.

How It Works

Using a pressure-sensitive form, participants respond to 18 situations and corresponding action options in connection with performance appraisal meetings. After scoring is complete, participants create a profile by plotting their scores for each of the six skill sets on a chart. To monitor improvement, the facilitator can later distribute a reproducible post-session inventory (included in the Facilitator Guide). By combining the results of the initial and post assessments, participants create an Overall Effectiveness Profile.

The Facilitator Guide includes optional activities and the reproducible article, "How to Get Extraordinary Performance from Ordinary People" — an excellent takeaway to introduce or reinforce the learning. In addition, each Participant Guide provides interpretive information and an action-planning section.

Uses for the PASI

The PASI works well as a stand-alone instrument, or as a component of a larger training initiative. It is appropriate for use with individual managers or supervisors in a department or work unit, or all the managers in an entire organization. The PASI can also be used with prospective managers to help them prepare for their performance appraisal responsibilities.

More specific uses include:
As part of a training program to introduce a new performance appraisal system
As part of a management training program to improve performance appraisal skills
As a development tool used by higher-level managers to coach lower-level managers in conducting performance appraisals
As a comparison tool to examine the effect of training by using pre- and post-training scores
As a follow-up activity
As an individual assessment tool
Additional uses and common reactions to the PASI are included in the Facilitator Guide.
What to Order/Product Contents

Order one Facilitator Guide per trainer and one Participant Guide per participant.

Recently revised and expanded, the 2nd Edition PASI Facilitator Guide includes many new features, including a sample copy of the Participant Guide, CD-ROM, workshop design, and more.
  Facilitator Guide includes:
Administrative guidelines
Background information
Workshop design with preparation checklist and step-by-step instructions
Alternative training designs
Blank training outline
Optional activities
Sample copy of re-formatted Participant Guide
CD-ROM containing Microsoft® PowerPoint® presentation and reproducible masters including a Certificate of Achievement, Training Evaluation, overhead transparency masters, and the article entitled, "How to Get Extraordinary Performances from Ordinary People"
Convenient binder format
  Participant Guide includes:
18-item inventory
Instructions
Pressure-sensitive Response Form
Interpretive information
Performance Appraisal Meeting Model
Profile Chart for recording and interpreting results
Improvement goals and action planning