Performance Management Through 5 Key Conversations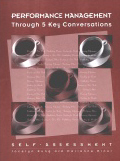 Manage the development of high-performing employees through collaborative and constructive dialogue. By engaging employees daily in meaningful, performance-related conversations, managers build relationships and get results in a less awkward, more productive atmosphere.

Performance Management Through 5 Key Conversations is designed to help managers identify their skill level in engaging employees in 5 key types of performance-related conversations. The instrument allows managers to create a profile of skill level in each of the 5 Key Conversations (comparing self assessment with peer feedback), providing insight on the areas for improvement.
Learning Outcomes
Identify conversational areas in need of development
Compare perceptions with valuable feedback from direct reports
Develop vital performance-related conversational skills
Theory

Performance Management Through 5 Key Conversations is based on a review of relevant literature on performance management and coaching as well as the authors' extensive experience working closely with line managers in global companies.

Each of the 5 Key Conversations between a manager and employee lead to clarity in direction and shared ownership. The quality of these conversations is determined by the extent to which mutual understanding is reached. Thus, the manager's ability to listen, probe, and clarify are essential skills underlying all 5 conversations.
How It Works

The assessment presents 30 statements regarding current practices as a manager in developing high-performing employees. In scoring the assessment, participants determine their Overall Performance Management Score. In addition, participants create a self-profile showing scores for each of the 5 conversations. Feedback forms submitted by peers provide the data to create a second — or "feedback" — profile. Finally, to prepare for meeting with employees, participants complete worksheets on each of the 5 conversations.
Uses for Performance Management Through 5 Key Conversations

Performance Management Through 5 Key Conversations is effective when used alone or as part of a management development program (flexible enough to be used at various stages). The instrument can be used in the following ways:
To establish a new approach to performance management in an organization
To provide basic skills in performance management for new managers or supervisors
To suggest an alternate or complementary approach to existing performance management techniques being used in an organization
If the Feedback Form is used, the manager should have at least 90 days of experience managing his/her employees. It is ideal if the manager has been through a performance review process with the employees who complete the Feedback Form.
What to Order

Order one Facilitator Guide per facilitator and one Participant Guide per participant and up to 10 Feedback Forms per participant.

The Facilitator Guide features administrative and scoring guidelines, transparency and handout masters, sample training designs, and tips for conversation planning and development.

Facilitator Guide includes:

· Administrative guidelines
· Training design options
· Descriptions of The 5 Key Conversations
· Tips for conversation planning and development (includes lists of typical employee concerns)
· Sample comparison charts
· Technical development
· Microsoft® PowerPoint® presentation (instructions for free download)

Participant Guide includes:

· 30-item assessment
· Pressure-sensitive response form
· Descriptions of The 5 Key Conversations
· Tips for conversation planning and development (includes lists of typical employee concerns)
· Diagram for comparing self assessment with feedback
· Action planning (worksheets based on The 5 Key Conversations)

Feedback Form includes:

· 30-item assessment
· Pressure-sensitive response form