Getting to Yes: Successful Sales Negotiation (1/2 Day Program)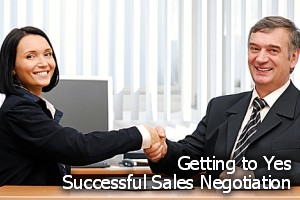 See a PDF preview of this title
The difference between selling and negotiating can be the difference between winning or losing the sale. While selling requires persuasiveness, negotiation is principally about problem solving, and developing creative solutions to challenges. Learn to identify negotiation styles in yourself and others, and how to use negotiation during the sales process to get to "yes".
Through skill building exercises and role play, you will learn how to plan and conduct effective negotiations, to respond to difficult questions and obstacles, and finally, close the deal.
The Reproducible Program Library comes in half-day to multi-day formats. Select the individual titles you need, choose from pre-selected topic series, or purchase the entire collection to own the ultimate training library. Each program comes ready to train with printable Participant Guides, an easy-to-use Facilitator Guide, and a Microsoft PowerPoint presentation. Most programs include additional content such as quick reference cards. That's not all - they're fully customizable, so you can add your company brand, tailor the content to your specific industry or organizational needs, and print on demand.