Team Effectiveness Profile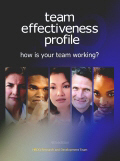 Help teams learn how to surface, diagnose, and work through the issues that impede effective teamwork. For more than 15 years, the Team Effectiveness Profile (TEP) has helped teams eliminate or reduce blockages in the 5 vital areas of team activity: Mission, Vision, and Goals; Team Roles; Operating Processes; Interpersonal Relationships; Interteam Relationships.
Learning Outcomes
Identify issues that block effectiveness
Reduce or eliminate problems that can drain a group's energy
Maximize the group's productive efforts
Theory

The Team Effectiveness Profile focuses on the 5 Categories of Team Effectiveness. The first 4 of these categories are based on those presented by Richard Beckhard in Organization Development: Strategies and Models (1969). Interteam relationship theory is the basis for the fifth category.
5 Categories of Team Effectiveness
Mission, Vision and Goals
Team Roles
Operating Processes
Interpersonal Relationships
Interteam Relationships
How It Works

The TEP has been designed to function as a self-administered learning instrument. The TEP yields an overall Team Effectiveness Score as well as separate scores for each of the 5 areas indicating the general health of the group and blockages that hinder team effectiveness.
Uses for the Team Effectiveness Profile

Appropriate for any type of team and all levels of team members and leaders, the TEP can be used as a stand-alone instrument or as a component in a larger team-building program. The TEP can be used to:
Measure pre-team building conditions
Orient new teams to potential problems
Unblock struggling teams
Determine post- team-building results
We recommend administering the TEP periodically, as issues will change over a period a time.
What to Order/Product Contents

Order one Facilitator Guide per trainer and one Participant Guider per participant.
   Facilitator Guide includes:
Administrative guidelines
Team development theory
Experiential learning methodology
Normative and reliability data
Sample copy of the Participant Guide
2-hour workshop
6 optional activities
2 alternative training designs
Overhead transparency masters
Reproducible participant handouts
Reproducible article Building a Winning Team
CD-ROM containing all reproducible materials, certificate of achievement, training evaluation, PowerPoint presentation
Convenient binder format
   Participant Guide includes:
50-item profile
Pressure-sensitive scoring form
Interpretive information
Descriptions of the 5 team effectiveness areas
Discussion guide
Action planning