Negotiating Style Profile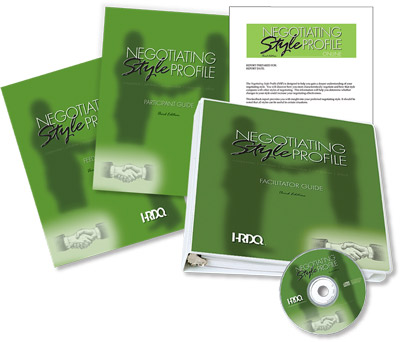 The Negotiating Style Profile is a win-win, collaborative negotiating assessment for employee and management development training to improve negotiating skills. The assessment identifies a preference for 1 of 5 negotiating styles based on the William Ury and Roger Fisher's win-win model of negotiating, and the Thomas-Kilmann conflict resolution model.

Negotiating is a skill that everyone can use, regardless of whether or not it is part of a formal job requirement.  One of the challenges, though, is that not everyone negotiates in the same way. We each have a personal negotiating style that influences how we approach and engage the process. By being aware of their negotiating style, individuals will be in a better position to acquire good negotiating skills.
The Negotiating Style Profile is a great starting point. Based on Ury and Fisher's collaborative win-win model, and heavily influenced by the Kilmann-Thomas conflict resolution model, The Negotiating Style Profile offers a simple framework for determining one's negotiating style and the likely effect of that style in a negotiating situation. Both professionals and non-professionals will find the Negotiating Style Profile to be a valuable tool for improving negotiating skills.  First, individuals identify their preference for 1 of 5 negotiating styles:  Defeating, Accommodating, Collaborating, Withdrawing, or Compromising.  Next, observer feedback provides valuable insight from peers.  Finally, they learn how to use this knowledge to focus on the skills and methods that are likely to produce synergistic outcomes.
Learning Outcomes
Understand 5 styles of negotiating

Identify personal negotiating characteristics

Learn why a win-win approach is most effective

Gather peer feedback about one's negotiating style
Theory and Development
The Model of Negotiating Styles at the center of Negotiating Style Profile is based on relevant literature on negotiating practices, including Getting to Yes, by Roger Fisher and William Ury. These sources reveal that concerns for both the outcome of the negotiation and for the relationship appear to represent the most important behaviors a negotiator can employ in an actual negotiation. The Negotiating Style Profile also references the research of Thomas and Kilmann (1976) because the negotiating model bears similarities to the conflict resolution process, which suggests that a particular resolutions style can be predicted based upon a person's willingness to confront issues and willingness to see all points of view. The Thomas-Kilmann model describes five pure styles for conflict resolution. This same approach can be
used to describe the five styles of negotiating behavior. Drawing from the literature on conflict resolution, it is clear that a negotiator cannot be effective in both the short and long terms if he or she emphasizes one set of concerns to the exclusion of the other. 

Although variations of each of the 5 Characteristic Negotiating Styles may be appropriate under certain conditions, it is suggested that a consistent application of the Collaborate style offers the greatest probability of producing the highest quality negotiating results and the most enduring satisfaction to the parties involved.

Uses for the Assessment
The Negotiating Style Profile is appropriate for anyone involved in negotiations. It is flexible enough to be used as a stand-alone instrument or as a component in a larger negotiating, communication, or leadership program.

How It Works
Negotiating Style Profile assessment is a good foundational tool for negotiating skills development.  It is most effective when administered, scored, and interpreted before any formal negotiation skills training begins. Once individuals are aware of their own negotiating style, they can learn to negotiate effectively by acquiring good negotiating skills. Using the Participant Guide, individuals create 2 profiles. The first profile is based on an assessment of their own preferences for one of 5 negotiating styles: Defeat, Withdraw, Accommodate, Compromise, or Collaborate. The optional second profile, based on scores compiled from the Observer Feedback Form, provides additional insight, as many people who think they are collaborative learn that their associates may disagree.

What to Order
The Negotiating Style Profile is available in both Online and Print Versions.
The Online Version is an excellent choice for enterprise-wide training or audiences that are geographically dispersed. It offers 24/7 access, streamlined distribution, and instant scoring. Each Online Assessment includes personalized reporting, full-color charts, interpretive information, worksheets, and action planning.
The Print Version is ideal for facilitators who prefer to oversee scoring and administration of the assessment, if you don't know who the participants will be before the class begins, or if your learners do not have easy access to computers. Includes pressure-sensitive forms for scoring to aid manual tabulation. The accompanying Participant Guide includes interpretive information, worksheets, and action planning
Initial Rollout

You will need to order a Facilitator Guide per trainer and either 1 Print Participant Guide for each individual learner. The Starter Kit is a great way to begin your rollout and includes a Facilitator Guide and 5 Print Participant Guides. Additional Participant Guides may be purchased separately. Purchasing all of the participant materials you need at one time may qualify you for quantity discounts that can save you money and simplify ordering.

If you are new to this product we highly recommend HRDQ QuickStart Training, whether you are a novice trainer or a seasoned facilitator. It's an excellent way to quickly get up to speed on the product so you can step into your first training class with confidence.  Personalized, one-on-one telephone coaching is provided in one-hour sessions at your convenience. Our subject matter experts will review the program with you, offer ideas for tailoring the program to your specific needs, discuss typical participant questions and reactions, and more.  Plus, we'll include a Facilitator Guide for FREE! 

Ongoing Training

Each time you administer the assessment you will need to order a new Participant Guide for each individual. Quantity discounts begin at 50 units per order.  Additional Facilitator Guides are also available for individual purchase if you have additional trainers or require a new copy.

Related Products
Product Type
Assessment
Time Required
15 minutes
Authors
Rollin Glaser, EdD and Christine Glaser, Med
Contributors - Kate Wartchow, PhD and Cathy J. Proviano, MEd