Dealing With Difficult Conversations (1/2 Day Program)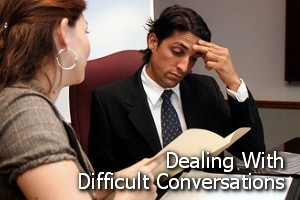 Whether initiating change, confronting someone about an issue or behavior, or delivering unfavorable news, difficult conversations in the workplace are inevitable. These conversations can be especially hard because of the uncertainty of how they will be received, what they will accomplish, or what their consequences will be.  But ignoring problems won?t make them disappear - in fact, most will escalate if not addressed.
See a PDF preview of this title
   
A difficult conversation doesn't need to become an ugly confrontation. Dealing With Difficult Conversations, the newest  title in the Reproducible Training Program Library, can help you better prepare for communicating under tough circumstances to make your message more effective, help you better control the situation, and achieve a positive outcome. 
Course Objectives
Successful completion of this program will enable you to:
 
- Recognize problems before they become a crisis
- Handle sensitive issues to avoid escalation
- Diffuse difficult situations through appropriate communication
- Express urgency without panic
- Deliver bad news
- Express emotions appropriately and help others express their feelings appropriately
- Discuss negative feedback constructively
- Create an action plan for dealing with difficult conversations
This program comes ready-to-deliver and includes a Facilitator's Guide, Participant Guide and PowerPoint presentation or call us at 1-800-257-4916 if you would like to learn more about working with one of our facilitators.
The Reproducible Program Library comes in half-day to multi-day formats. Select the individual titles you need, choose from pre-selected topic series, or purchase the entire collection to own the ultimate training library. Each program comes ready to train with printable Participant Guides, an easy-to-use Facilitator Guide, and a Microsoft PowerPoint presentation. Most programs include additional content such as quick reference cards. That's not all - they're fully customizable, so you can add your company brand, tailor the content to your specific industry or organizational needs, and print on demand.