Coaching Conversations (1/2 Day Program)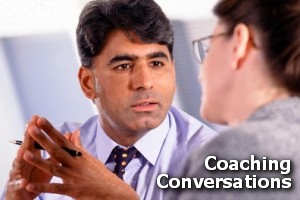 A good coach can be described as an expert questioner, with the ability to ask the right questions at the right time and respond to the needs of the individual being coached.  Discover how to build your coaching expertise with this half-day program designed to address coaching for improving performance in specific areas, as well as in the larger scope of career development.
Learn to establish the context of a situation and lead a series of coaching conversations that make the individual responsible for proactively defining goals and becoming accountable to their commitments.  Understand how the various aspects of coaching conversations such as defining the opportunity or problem, analyzing options, and developing an action plan - can motivate and support individuals to help them successfully meet their goals.
This course is designed to build upon the concepts learned in The Art of Successful Coaching. If participants have completed that course, the discussion of coaching techniques and tools can be covered as a review and more time can be spent on the conversations - allowing more than one student to practice the skills. The course was also designed to work as a stand-alone program, in which case more time can be spent on the techniques and tools, with the conversations being used to demonstrate them.
See a PDF preview of this title
Course Objectives
Successful completion of this course will increase your knowledge and ability to:
Identify the four steps of a coaching session and how they are applied in various contexts
Recognize the correct application of inquiry and advocacy in a coaching session
Apply basic coaching techniques to coaching for:

Performance improvement
Career development
Training for specific skills
Coaching a business team
This program comes ready-to-deliver and includes a Facilitator's Guide, Participant Guide and PowerPoint presentation or register for an in-house session.
The Reproducible Training Library comes in half-day to multi-day formats. Select the individual titles you need, choose from pre-selected topic series, or purchase the entire collection to own the ultimate training library. Each program comes ready to train with printable Participant Guides, an easy-to-use Facilitator Guide, and a Microsoft PowerPoint presentation. Most programs include additional content such as quick reference cards. That's not all - they're fully customizable, so you can add your company brand, tailor the content to your specific industry or organizational needs, and print on demand.
Related Assessments and Workshops