What's My Coaching Style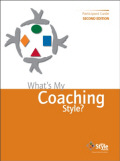 Understanding personal style is the first step to developing successful coaching relationships. By responding to the 18-item What's My Coaching Style? inventory and receiving feedback from coachees, participants identify their personal style and build an understanding of the people they coach. Ultimately, coaches learn how modify to their own styles to create better rapport with their coachees.
Learning Outcomes
Identify preferences for one of four coaching styles: Direct, Spirited, Considerate, or Systematic
Develop an awareness of personal behavior patterns
Understand how personal style reveals itself in coaching
Theory

What's My Coaching Style? and the other titles in the HRDQ Style Series are based on the well-known research and personality theories of psychologists Carl Jung, William Moulton Marston, and others. Most research has identified two basic dimensions of style, which we refer to as assertiveness and expressiveness. Assertiveness is the effort a person makes to influence or control the thoughts or actions of others. Expressiveness is the effort that a person makes to control his or her emotions and feelings when relating to others.
How It Works

Participants respond to 18 pairs of adjectives, using a pressure-sensitive form. After scoring is complete, easy-to-read charts allow respondents to quickly scan the strengths and trouble spots that characterize their particular coaching styles.

The Facilitator Guide lists optional activities that allow participants to practice using flexibility when working with other styles. In addition, each Participant Guide provides a personal action-planning worksheet so that coaches can apply what they've learned to the workplace. To determine compatibility of styles in the coaching relationship, the Feedback Form reveals how coachees view their coaches.

Uses for

What's My Coaching Style?



What's My Coaching Style? is ideal for training anyone who coaches another and wants to create an environment of high performance, change, and learning. It makes an effective component in training programs for a variety of topics, including:
Coaching
Motivation
Performance Management
Leadership/Management/Supervisory Skills
Communication
Team Building
Diversity
What to Order

Order one Facilitator Guide per trainer, one Participant Guide per participant, and one Feedback Form for each of the participants' coachees (to be used separately from the training session).

Facilitator Guide includes:
Administrative guidelines
Background information
Sample training design
Blank training outline
Optional activities to conduct using StylePlay - 12 Group Card Games
Sample copy of re-formatted Participant Guide
CD-ROM containing Microsoft® PowerPoint® presentation and reproducible masters (Certificate of Achievement, Training Evaluation, and overhead transparency masters)
Convenient binder format
Participant Guide includes:
18-item assessment
Instructions
Pressure-sensitive Response Form
Interpretive information
Charts depicting style strengths and trouble spots
Action planning worksheet
Related Assessments and Workshops