Coaching Skills Inventory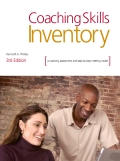 No manager looks forward to approaching employees about job-performance problems — yet few tasks are more vitally important. The Coaching Skills Inventory offers a logical, 7-step formula for conducting coaching meetings that are based on mutual trust and respect.
Learning Outcomes
Identify strengths and weaknesses in specific coaching meeting skills
Impact employee job performance using the model for effective coaching meetings
Measure progress by comparing skills after training to those before taking the assessment
Theory

Coaching Skills Inventory is based on the Coaching Meeting Model. The steps and skills that make up the Model are all grounded in behavioral science and have been found to distinguish managers who are experts at conducting coaching meetings from their non-expert counterparts. (Orth et al., 1987; Fournies, 1978; and Stowell & Starcevich, 1987).
How It Works

The inventory presents 18 typical coaching situations. Individuals choose the actions they would most likely take, generating an overall Coaching-Effectiveness Profile. Subscores measure effectiveness in each of the 7 steps of the Coaching Meeting Model process. Next, participants learn a proven meeting model to improve their performance. Finally, a post-training assessment (located in the Facilitator Guide) serves as a basis for comparison.
Uses for the Coaching Skills Inventory

The Coaching Skills Inventory instrument is appropriate for use with individual managers, a group of managers or supervisors in a department or work unit, or all the managers in an entire organization. It can also be used with prospective managers to help them prepare for their future coaching responsibilities. Among its many applications, the Coaching Skills Inventory can be used to:
Introduce a new performance management system
Help managers identify their coaching strengths and weaknesses
Reinforce coaching skills training after a training event
Compare pre- and post-training skills during a training event
What to Order

Order one Facilitator Guide per trainer and one Participant Guide per participant.
   Facilitator Guide includes:
Administrative guidelines
Theoretical background
Step-by-step workshop design
Optional activities
Reliability and validity
Normative data
The 7-step Coaching Meeting Model
Sample Coaching Meeting Skills Profile
 Management Training Program Design
Sample copy of Participant Guide
Reproducible post-training assessment
CD-ROM containing Microsoft® PowerPoint® presentation and reproducible masters including a Certificate of Achievement, Training Evaluation, as well as overhead transparency masters
3-ring binder format
   Participant Guide includes:
18-item inventory
Pressure-sensitive response form
7-step Coaching Meeting Model
Interpretive information
Chart to plot profile
Action planning
Related Assessments and Workshops