Get Fit for Coaching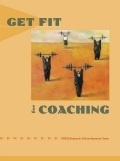 Effective coaches equate to stronger leaders, more motivated employees, improved morale, and better communication in the workplace. So what does it take to become great?

While there are many skills and attributes of an effective coach, Get Fit for Coaching identifies and assesses areas of strength and improvement based on 5 critical skills found in research and literature: Building Rapport, Observing and Analyzing, Questioning and Listening, Providing Feedback, and Facilitating Learning.
Learning Outcomes
Identify areas of strength and areas for improvement
Provoke critical thinking on what it takes to be an effective coach
Learn how to apply their new knowledge on the job
Theory

Based on a review of literature and the available research on coaching, HRDQ's Research and Development Team has identified 5 distinct skills associated with successful coaching. These 5 skills constitute the 5 competencies measured in the Get Fit for Coaching self-assessment. The Coaching Process Model shows the open flow of communication back and forth between the coach and the person being coached. At the center of the model are the 5 Coaching Competencies:
Building Rapport
Observing and Analyzing
Questioning and Listening
Providing Feedback
Facilitating Learning
Uses for Get Fit for Coaching

Get Fit for Coaching is appropriate for managers, supervisors, and team leaders at all levels. It can be used as:
A stand-alone assessment or debrief
An icebreaker for new coaches or individuals new to management
Part of a comprehensive training program on leadership development
Related Assessments and Workshops