Challenging Negative Attitudes (1 Day Program)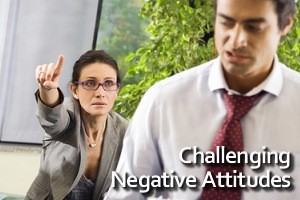 This course explores how to challenge individual negativity as well as how to protect yourself from the negativity of others. Behavioral models to use in coaching yourself and others in how to build optimistic responses to any given situation are taught. Learn how negative norms become entrenched in an organization, department or team and how to create a more positive working environment.
See a PDF preview of this title
Course Objectives
Successful completion of this course will increase your knowledge and ability to:
Adjust your own attitude regarding your work situation
Control the impact of negative situations
Deal with negative people more effectively
Determine how the explanatory styles contribute to pessimism or optimism
Practice using disputation to enhance your optimistic side
Discriminate between situations that call for optimism versus pessimism
Use specific coping tools for dealing with change
Identify the negative norms present in your own organization, department, or team
Use a four-step process to eliminate negative organizational norms
This program comes ready-to-deliver and includes a Facilitator's Guide, Participant Guide and PowerPoint presentation or register for an in-house session.
The Reproducible Training Library comes in half-day to multi-day formats. Select the individual titles you need, choose from pre-selected topic series, or purchase the entire collection to own the ultimate training library. Each program comes ready to train with printable Participant Guides, an easy-to-use Facilitator Guide, and a Microsoft PowerPoint presentation. Most programs include additional content such as quick reference cards. That's not all - they're fully customizable, so you can add your company brand, tailor the content to your specific industry or organizational needs, and print on demand.
* Complete Listing of All Reproducible Training Programs