TeamConflict Assessment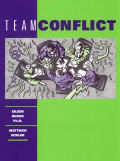 Team conflict is one outcome of team organization that is practically inevitable. When we consult with team-based organizations, one of the most frequent requests we receive is for help in dealing with team conflict. People see conflict as a barrier to productivity. We take the point of view, however, that
team conflict is a potential promoter of productivity
. The effects of team conflict are dependent on the way team members handle it. If team members can get a firm grasp of what behaviors turn conflict into a plus, they will be well on their way to using their diversity to their advantage.   
TeamConflict
is designed to give team members insights into how their behaviors determine the outcome of conflict and how they can change those behaviors to be more productive.   
Development

Over the past few years, we have developed a series of tools designed to allow teams to fully discuss small slices of their life together. These tools have included topics such as communication, team roles, and accountability. Conflict within teams is another slice -- and it is a big one. We felt the need to produce a tool for discussing team conflict because it is an issue that continually surfaces in discussions with team members.   
Our starting point was to question how team conflict differed from other types of conflict. We conducted a literature search on team conflict and found substantial differences. We then developed an instrument that reflected the most important aspects of handling team conflict. We ran several groups through several versions of the tool as it was refined. In addition, we asked customers who had teams in conflict to review TeamConflict for us. Their comments, in conjunction with the experiences of our groups, allowed us to produce the final version of TeamConflict.   
Administering TeamConflict

Included in the instrument booklet is all the information needed for scoring, interpreting results, and preparing plans for change. It is possible, therefore, for a group of respondents to use these learning instruments without a professional facilitator. We do, however, strongly believe that a trained facilitator greatly enhances the learning experience for participants. Moreover, when exchange of feedback on a sensitive issue is part of the exercise, as it is in TeamConflict, a trained facilitator ensures that the process will be productive.
This program comes ready-to-deliver and includes a Facilitator's Guide, Participant Guide and PowerPoint presentation or register for an in-house session.
The Reproducible Training Library comes in half-day to multi-day formats. Select the individual titles you need, choose from pre-selected topic series, or purchase the entire collection to own the ultimate training library. Each program comes ready to train with printable Participant Guides, an easy-to-use Facilitator Guide, and a Microsoft PowerPoint presentation. Most programs include additional content such as quick reference cards. That's not all - they're fully customizable, so you can add your company brand, tailor the content to your specific industry or organizational needs, and print on demand.